18:19
Whitty
turns to the fourth test, which is about the threat posed by new variants. He says as a result of the Delta variant, the "assessment of risk has fundamentally shifted".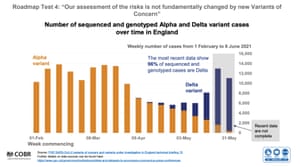 18:18
Whitty
then turns to test three for lockdown easing, which is is about the risk of the NHS being overwhelmed.
He says the increase in hospital numbers in some areas is a concern, especially if numbers continue to increase exponentially.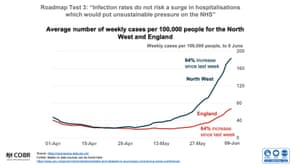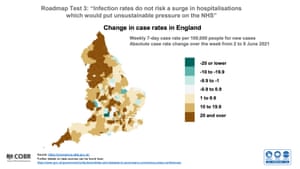 18:15
Prof Chris Whitty
is presenting the slides now.
He says the first test for lockdown easing has been met. Here is the slide.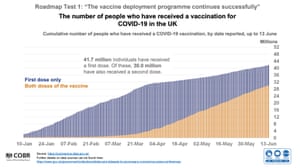 And here is one of the slides for the second test.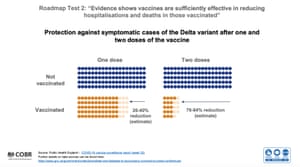 18:13
Here is my colleague Jessica Elgot's story about the four-week delay to lockdown easing in England.

18:12
Johnson says he is confident one-month delay to lifting restrictions will be all that's needed
Boris Johnson
starts by saying they knew that opening up wojuld lead to more infection



We cannot simply eliminate Covid. We must learn to live with it.
But he says they are worried by the Delta variantr.
He says case are growing by 64% per week.
And hospital cases are increasing by 50% per week. In the north-west cases are increasing by 61% per week, which may be the shape of things to come.
Johnson says they could accept this. Or they could give the NHS a few more weeks to get more people vaccinated.
He says that is why he is delaying.
He says by Monday 19 July two thirds of adults will have had two doses. He says all over-50s will be double-vaccinated, and all over-40s who had their first jab by mid May.
He says second jabs for over-40s are being accelerated.
He is confident that he will not need to delay for another four weeks.
He also says he reserves the right to speed up the lifting of remaining restrictions if after the two weeks the data has improved.
But weddings will be allowed to go ahead with more than 30 guests from 21 June, as originally planned.

17:57
Boris Johnson's press conference
Boris Johnson is due to start his press conference in the next few minutes. He will be at Downing Street with Prof Chris Whitty, the government's chief medical adviser, and Sir Patrick Vallance, its chief scientific adviser.

17:56
Last week Public Health England report published data comparing the effectiveness of the Pfizer and AstraZeneca vaccines. (See 10.41am.) But it was based largely on how they perform against the Alpha variant, not the Delta one which is now dominant and more harmful.
The new research published today in the Lancet (see 3.51pm) does compare the effectiveness of the two vaccines against the Delta variant.
Here are the figures for effectiveness against infection at least 14 days after the second dose.
Pfizer
79% effective against Delta variant
92% effective against Alpha variant
AstraZeneca
60% effective against Delta variant
73% effective against Alpha variant
say how the two vaccines

17:28
Hoyle accuses No 10 of misleading him about when lockdown easing delay finally decided
In the Commons
Sir Lindsay Hoyle
, the Speaker, also accused No 10 of misleading him about the timing of the government's decision to delay the final phase of lockdown easing for England.
He said that it was "totally unacceptable" that MPs were not told about this first. (See 4.10pm.) But the Conservative MP Peter Bone told him that the media had been given an embargoed copy this afternoon of the announcement, and that infuriated Hoyle even further. Hoyle replied:



I was told no decisions have been taken. That's why I'm more shocked to know there is an embargoed list of what's going to happen to this country without this house knowing.
I was told no decisions had been taken, that no decisions will be taken until the cabinet meets.
The fact is, I am being misled, this house is being misled, and I would welcome them coming here before they make the press statement as the press have already got [an embargoed copy].
Knowingly misleading the Commons is a sackable offence under the ministerial code, although that refers to comments made by ministers at the despatch box. Hoyle was referring to comments made to him in private. He did not say who told him that no decisions had yet been taken, but this message may have come from officials working for No 10 or for the chief whip.
Hoyle's key allegation was that he was told the final decision about the next stage of lockdown would only be taken at cabinet (a meeting of some sort was planned for this afternoon) when in fact the decision had already been taken. By asserting this, No 10 would have been able to that it was unreasonable to expect a Commons statement at 3.30pm (the usual time for one on a Monday) before the cabinet meeting had taken place.
But in practice, under this prime minister, decisions of this kind are only rubber-stamped by cabinet, after being taken earlier by a smaller group. And, as Hoyle told MPs, if Johnson had wanted to make a statement to the Commons a bit later this afternoon or this evening, that could easily have been arranged.

16:48
More support for surge testing is being deployed in six further areas in England in response to increases in the Delta variant.
According to PA Media, the areas covered are: Birmingham, Blackpool, Cheshire East, Cheshire West and Chester, Liverpool city region and Warrington.
In these places there will be more support for surge testing, tracing, isolation and maximising vaccine uptake. The support package, which is the same as was announced for Greater Manchester and Lancashire last week, is being provided after a number of cases of the Delta variant were detected in the areas, a spokesman told PM Media.
Matt Hancock, the health secretary, said:



We know this approach has made a real impact in south London and in Bolton where we have seen it stall rising cases.
I urge people living these areas to get tested, come forward for your vaccine as soon as you are eligible and make sure to get the all-important second jab – that is how we will beat this virus.

16:40
UK records 7,742 new coronavirus cases, and three further deaths
The UK has recorded 7,742 new coronavirus cases, according to the latest update to the government's dashboard. And the total number of new cases of the past week is 45.5% up on the previous week.
Three further deaths have been recorded, and the latest weekly death total is 11.9% up on the previous week.
Hospital admissions are up 15.2% week on week according to the latest figure – although this is based on data that is almost a week old.
And 79.2% of adults in the UK have now had their first dose of vaccine, while 56.9% have had both doses.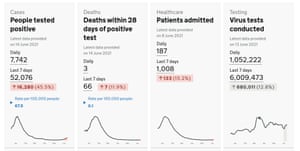 Updated


16:28
The Conservative MP
Daniel Kawczynski
has apologised for bullying Commons staff, after being ordered to do so by the independent expert panel. (See 12.24pm.) He told MPs:



I did not swear nor raise my voice but my behaviour led to two complaints. I have reflected on my behaviour, I accept it constituted bullying and as such was highly inexcusable.
The circumstances were stressful for the staff who were assisting the committee and for me.
I've apologised to them before and I apologise to them again and to the House unreservedly. I will never repeat such behaviour.

16:26
Yesterday's Covid figures from the government's dashboard were published a moment ago by mistake, not today's. I apologise for that. They have now been taken down.

16:10
Commons Speaker says sidelining of parliament by No 10 for Covid announcements 'totally unacceptable'
Sir Lindsay Hoyle
, the Commons Speaker, has said it is "totally unacceptable" that Downing Street has sidelined parliament, again, when announcing changes to the lockdown regulations.
In a statement to MPs Hoyle said that No 10 originally wanted the Commons statement about the announcement to be made tomorrow, a day after the PM's press conference. That would have been "totally unacceptable", he said. He said he insisted on a Commons statement this evening, and Matt Hancock, the health secretary, will now make one at 8.30pm (not 9pm, as originally reported).
Hoyle went on:



I find it totally unacceptable that, once again, we see Downing Street running roughshod over members of parliament. We're not accepting it, and I'm at the stage where I'm beginning to look for other avenues, if they're not going to treat this house seriously.
Hoyle also said he thought it was time for him to have a meeting with the prime minister to discuss this issue so that he could "actually put on the record, here and now, that this house matters".
For many years there has been a convention in the House of Commons that major government announcements are made to MPs in the chamber first. It is even in the ministerial code (pdf), which says:



When parliament is in session, the most important announcements of government policy should be made in the first instance, in parliament.
For many years also successive government have ignored this, normally by briefing announcements to the newspapers first. However, Boris Johnson has been unusual in making some of his Covid announcements first at press conferences and not at the dispatch box when the Commons has been sitting.
Updated


15:51
Risk of hospital admission twice as high from Delta variant as from Alpha variant, research says
The risk of hospital admission from the Delta variant (first identified in India) is twice as high as it is from the Alpha variant (first identified in Kent), according to research published in the Lancet.
The research, based on data from Scotland, also shows that two doses of either the Pfizer or AstraZeneca are effective against the Delta variant, which is now the dominant one in the UK, although not as effective as they were against the Alpha variant.
Here is an extract from the report.



In summary, we show that the Delta VOC [variant of concern] in Scotland was found mainly in younger, more affluent groups. Risk of Covid-19 hospital admission was approximately doubled in those with the Delta VOC when compared to the Alpha VOC, with risk of admission particularly increased in those with five or more relevant comorbidities.
Both the Oxford–AstraZeneca and Pfizer–BioNTech Covid-19 vaccines were effective in reducing the risk of Sars-CoV-2 infection and Covid-19 hospitalisation in people with the Delta VOC, but these effects on infection appeared to be diminished when compared to those with the Alpha VOC.
Updated


15:22
All eligible adults in Wales have been offered first dose of vaccine, minister says
All eligible adults in Wales have been offered their first dose of the coronavirus vaccine,
Vaughan Gething
, the Welsh government's economy minister, said today.
Speaking at a press conference in Cardiff, he said the incidence rate in Wales was now 18.1 cases of Covid-19 per 100,000 people – the lowest rate of the UK nations.
He also said 1.4 million people in Wales – 54.9% of the adult population have now had both doses. He went on:



Over recent weeks, as restrictions have gradually been lifted, we have been able to reconnect and enjoy more aspects of life before Covid in a safe way. That progress is obviously good news for the economy.
However, we do know that despite our success in controlling rates of Covid-19 and rolling out the vaccine programme, the Delta variant continues to present real challenges.

15:11
NHS England
has now administered more than 60m vaccine doses, it has announced. Dr Emily Lawson, the organisation's lead for NHS vaccination, said:



Hitting 60 million vaccinations is an incredible achievement … The biggest vaccination drive in history, fastest in Europe and most precise in the world has entered the home straight, as we last week opened up bookings to people aged 25 to 29, and it was fantastic to see the offer was received with record-breaking levels of enthusiasm.